Seam Seeker, product background
Features:
 Detects the position of a seam on a round pipe.
 Uses magnetism to perform non-destructive inspection.
 Not affected by reflectance, color (shading) or lighting , because no optical components are included.
 Detects seams even on dented or otherwise damaged products.
 Not affected by oil or other substances on pipe surfaces.
 Takes only 8 seconds to complete inspection, including bringing the seam into position (for 50-mm dia. round pipes).
 Performs non-contact inspection.
(The distance between the sensor and the pipe being inspected must be kept constant.)
 Requires no complicated parameter settings (for 360-degree inspection).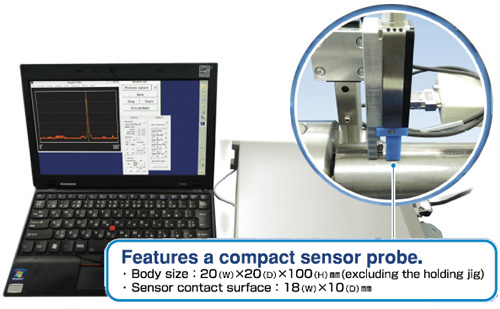 Object Inspection
 Detects the seam on a seam-welded pipe.
 Inspects pipes produced by rolling sheet steel into a cylindrical shape and then welding the seam as shown in the figure below.