Applicable cases

This equipment quantifies (measures as numeric values) the quality of the areas formed by spot elding.
Its purpose is to confirm that the quality of the spot welding is of a sufficiently high level.
Note: The equipment is used in a comparative inspection with the breaking test.

[Inspection Result]
No value variation observed: The same welding quality has been maintained since the previous destruction test.

Value deterioration observed:
The welding quality has reduced since the previous destruction test (smaller diameter or pressure-welded).
Note: The above function can be used for checking whether the process is stable in addition to detecting defective.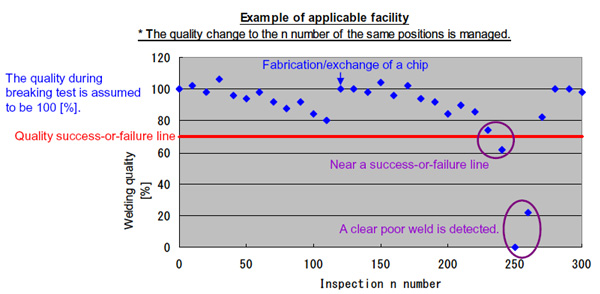 * This equipment serves as a relative value inspection from a breaking test time.
Since it is not an absolute value inspection, the diameter of an output of equipment has differed from the diameter of an absolute size.
It is necessary to associate "The value which this equipment expressed quantitatively" and "The actual diameter of welding " at the time of a breaking test.
It is carried out by parameter setting.
Applicable cases - shipping inspection
The nugget profiler can be used at parts companies.
(1) All parts in a production lot are quantified: Variations in the lot can be confirmed.
(2) Then, a single piece can be sampled out of the lot and subjected to breaking test to assure
the quality.
Note: The outflow of defective parts can be prevented.
(Parts other than those subjected to breaking test can also be checked for quality.)