Equipment Composition
This equipment is composed of the following four parts.
- Main body (including PC) : hardware control, function of preparation of exciting voltage pattern.
- Tablet PC : data analysis and man machine IF functions.
- Sensor probe : generating magnetic flux and data acquisition functions.
- Handy switch : trigger function of inspection data recording.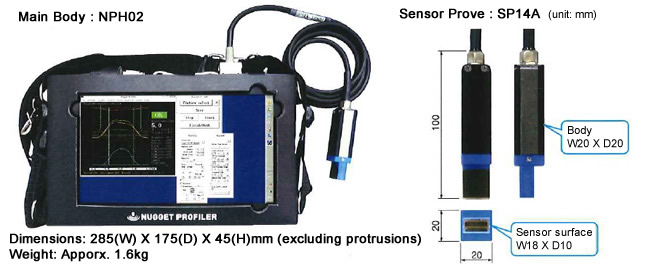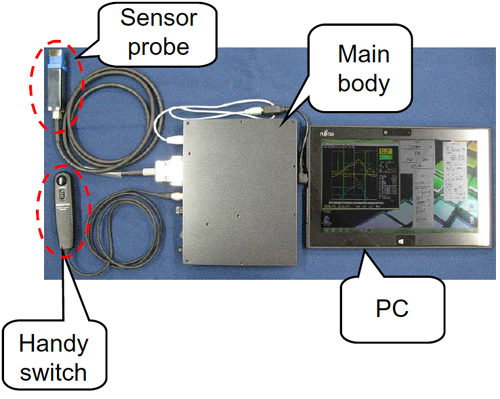 Equipment Specifications
Type name

NPF01

NPH02

Inspection welding diameter
3 mm to 7 mm [Indentation diameter 8mm or less; Effective sensor width: 11 mm]
(The equipment may support the ranges other than the above. Please inquire us.)
Applicable chip
R electrode
Specimen sheet thickness
(Thickness of one inspection side )
0.7 to 2.3 mm
(The equipment may support the ranges other than the left. Please inquire us.)
Specimen sheet type
270 to 980 MPa
(The equipment may support the ranges other than the left. Please inquire us.)
Specimen sheet surface treatment
No treatment, electrogalvanizing, hot-dip galvanizing
(As for the aluminizing. please inquire us.)
Number of specimen mating sheets
Two sheets, three sheets
(Inspection from both sides are necessary.)
Sensor edge material
FR
Data storage
XLS form
Setting of inspection condition
Set in the inspection screen.
(The setting contents can be stored in the file.)
Judgment method
OK/NG judgment, The diameter of a presumed nugget
Option
Navigation mode, Inspection record management
Product configuration and
dimension/weight
Main body
350x255x100 mm
Weight 5.4kg
195x164x28 mm
Weight
380g (without battery)
560g (with battery)
Relay box
100x160x 40 mm
Cable length 10m
Weight 350g (Excluding cable weight)
Not be attached.
Sensor
100x 20x 20mm
Cable length 1.5m
Weight 200g (Including cable weight)
Handy switch
27x120x 20 mm
Cable length 1.0m
Weight 80g (Including cable weight)
Operation temperature range
5°C to 40°C
Operation humidity range
Up to 80%RH (No condensation occurs.)
Power supply
AC85V to 240V, 0.5A
Two kinds of power supplies selectable.
(1) AC85V to 240V, 0.5A
(2) Battery (7 size AA Ni-MH battery)